Chartering in the Bay of Islands - Provisioning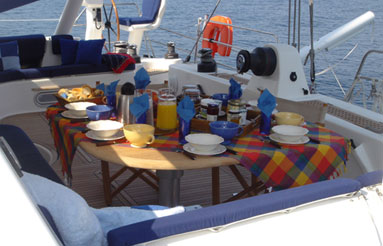 We believe that the ability to choose a vacation menu suited to your individual party's tastes is one of the characteristics of a successful and enjoyable sailing vacation. We use regional suppliers for freshness and along with your favorite staples from home, we integrate local culinary flavours into each provisioning package to bring the ambience of your destination alive.
Complimentary Care Package
When you arrive on board, you will find our complimentary Moorings Care Package to help you to get started, including ice, paper towels, garbage bags, matches, bath soap, toilet paper, sponge, dishwashing liquid and insect spray.
Clients have two basic choices when provisioning for a charter in the Bay of Islands
Moorings provisions the boat
You provision the boat (self-provisioning)
Split Provisioning is our most popular option, with standard or personalized packages available at most destinations. This provides breakfast, lunch and snacks for each day of your charter and dinners for about half the evenings you will spend aboard, allowing you to dine onboard more often,
Designed for charterers who want to have a few dinners ashore
On a seven-day charter you would eat out 4 times
This menu includes all breakfast, lunches, snacks and a few dinners
Full Provisioning is available for those who wish to eat ALL meals aboard.
Self - Provisioning
Driving to Paihia (5km of Opua) to the 4 Square supermarket. You will find a range of vegetables, fruits, rice, pasta, bread, etc... as well as wine and beers.
Alcohol
Due to the NZ Liquor licensing laws we are unable to on-sell liquor from the base. We advise that you purchase your wines, beers and spirits from local outlets prior to arrival at the base. Wines can be purchased at Supermarket and liquor stores. Beer can only be purchased from liquor stores, the closest to the base 5min drive.
Special Occasions
Celebrating a birthday or wedding? Let us know and we will tailor make a package for the occasion, from special cakes to flowers. Ask your Vacation Planning Specialist for details, we are here to help.